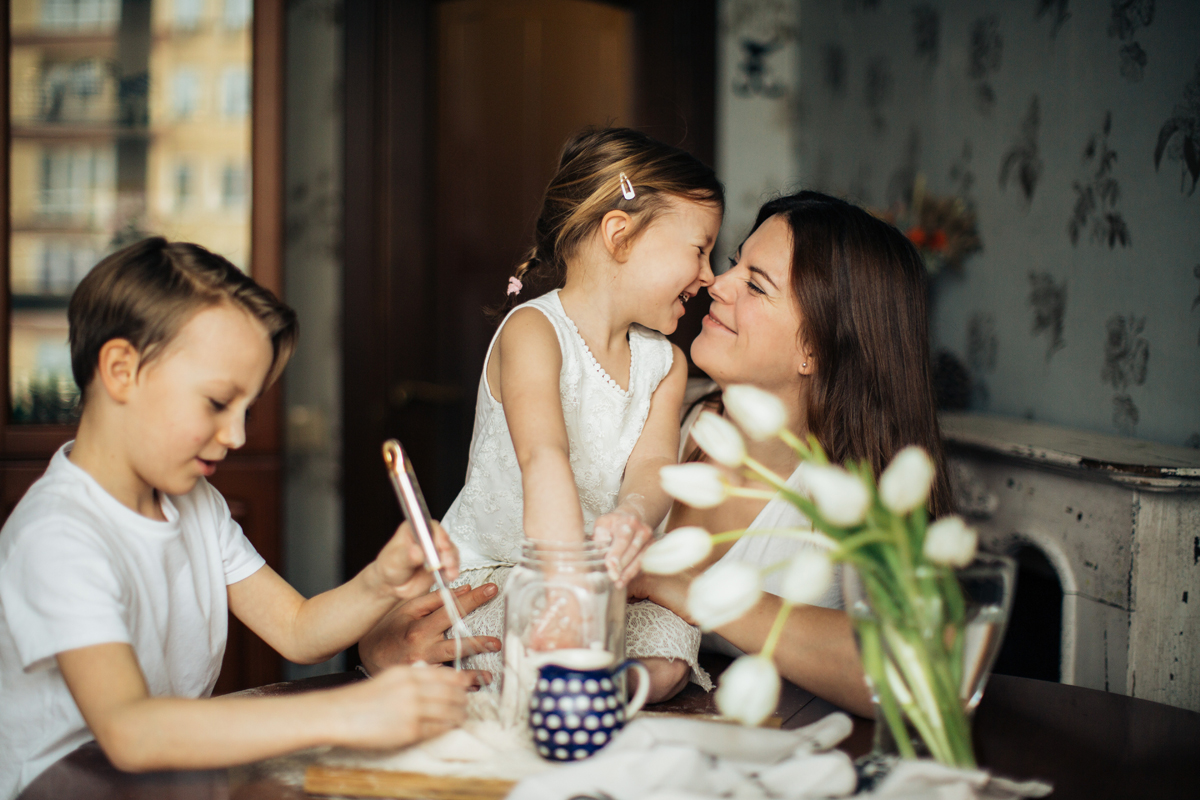 I was teaching my girls to ride a bike earlier this week, when we spotted one of the neighbor boys scooting up our street.
My 7-year-old asked, 'Can we go say hi to him?'
'Can we, mom?' my 5-year-old chimed in excitedly.
A car was parked there, so I pointed at it and said, 'You can go as far as that car, and say hi.'
Since the coronavirus pandemic, we are now living in a time of social distancing. Nobody was familiar with this until a few weeks ago, and now we're encouraged to create as much social distancing as possible. But how can we explain it to our little ones?
For starters, use simple concepts and language to make children understand the pandemic situation and social distancing. Higher levels of anxiety and stress can make it more challenging to process complicated ideas.
From toddlers to tweens, kids vary a lot in their social, emotional and verbal development. For instance, two kids of the same age may have different ways of understanding complex problems. The goal is to break it down in ways that are meaningful, yet simple.
Here are some phrases that will help you explain social distancing to your children.

"It's different than usual"
Undoubtedly, kids are worrying about the whole situation – things are different from the regular routine, and everything feels different and strange. Children take comfort in knowing that they are not the only one having these emotional reactions.
Talk to your kiddo using a simple language and acknowledge that everyone is feeling the same way. It will reduce their anxiety and stress about what's happening.

"You are safe"
How do we express stress? Being moody or more angry. The same goes for little ones. They show their stress in different ways – being more irritable, more moody, throwing more tantrums, or regressing in potty training.
It doesn't mean they are misbehaving, necessarily; it could just be that they are worried. In such situations, there is nothing better than giving them a hug and letting them know that you have got them, and everything will be okay.
"This stinks"
Being a mommy, we don't always have to paint a rainbow on unfortunate or unlikely scenarios. Sometimes it's best to validate rather than denying it. For example, it stinks that the birthday party, school play, or sports season is canceled. It stinks that the weather is great out there, and we can't go out to have a picnic. It stinks that we can't hang out with our best friends, or that it's been so long since we last saw Grandma and Grandpa.
Validation will only help your kid express emotions in a better way.
The bright side
It's also important to show your kiddos the bright side. Reframing is not the same as invalidating. You can't tell your kids that it's going to be the best spring break. However, what you can do is show them the silver linings, …and in fact, there are many. Look at how many crafts we can do. You get to spend more time with Mommy and Daddy. We get to watch movies on a weekday. Even little details can stand out sharply in a child's mind, relieving anxiety and building a positive experience which leads to positive reactions.

Take one thing at a time
Children, just like grow-ups, will get overwhelmed by the thought of making life adjustments for too long. Missing their Grandma and Grandpa, school, or friends – it all can be overwhelming for your little one. It's better to help them focus on what is going to happen today, and how to enjoy the present moment to the fullest.
Sometimes giving comfort isn't about the 'right words.' Sometimes all it takes is to hug your kiddo and let them know: 'I'm here. It's going to be okay.'