Montessori Workspaces
A Montessori education does not have to be limited to a classroom setting. In fact, a Montessori education encourages learning anywhere, anytime. You can easily bring Montessori principles into your home. Children need challenges that help them develop concentration and mastery of movement. A Montessori at home workspace is an area in your home that you designate for your child's learning and enrichment.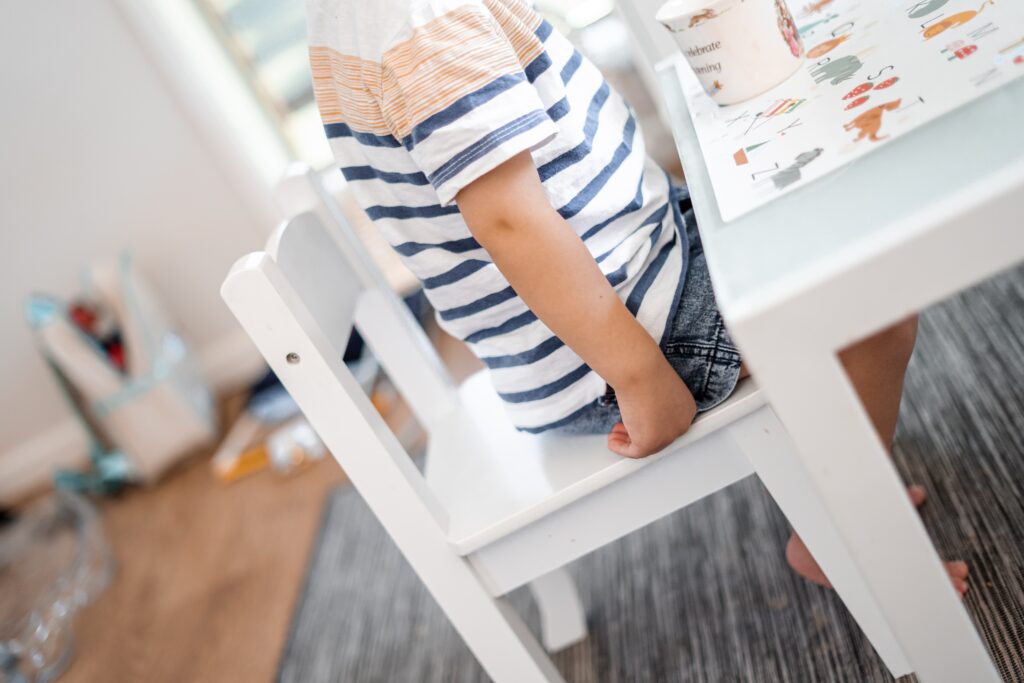 A Child's Workspace?
First, let's be clear. The "work" in "workspace" doesn't refer to a 9-5 desk job (although their workspace could include a child-size desk.) The child's job is to play, as play is how they best learn. A Montessori at home workspace is simply a place for learning. Think of it as a learning space. Whatever activity or toy your child is engaged with is considered as their work.
When to Create a Montessori at Home Workspace
The typical Montessori school accepts children starting around age 3, when conscious learning begins. However, Maria Montessori believed children are born with an absorbent mind and that instinctual learning begins at birth. This absorbent mind acts like a sponge, ready to soak up knowledge without conscious effort. The benefit of Montessori at home is that you can create a learning environment well before age 3. The sooner, the better! However, if you're coming to Montessori with an older child, it's not too late to start applying Montessori principles.
Setting up a Montessori at Home Workspace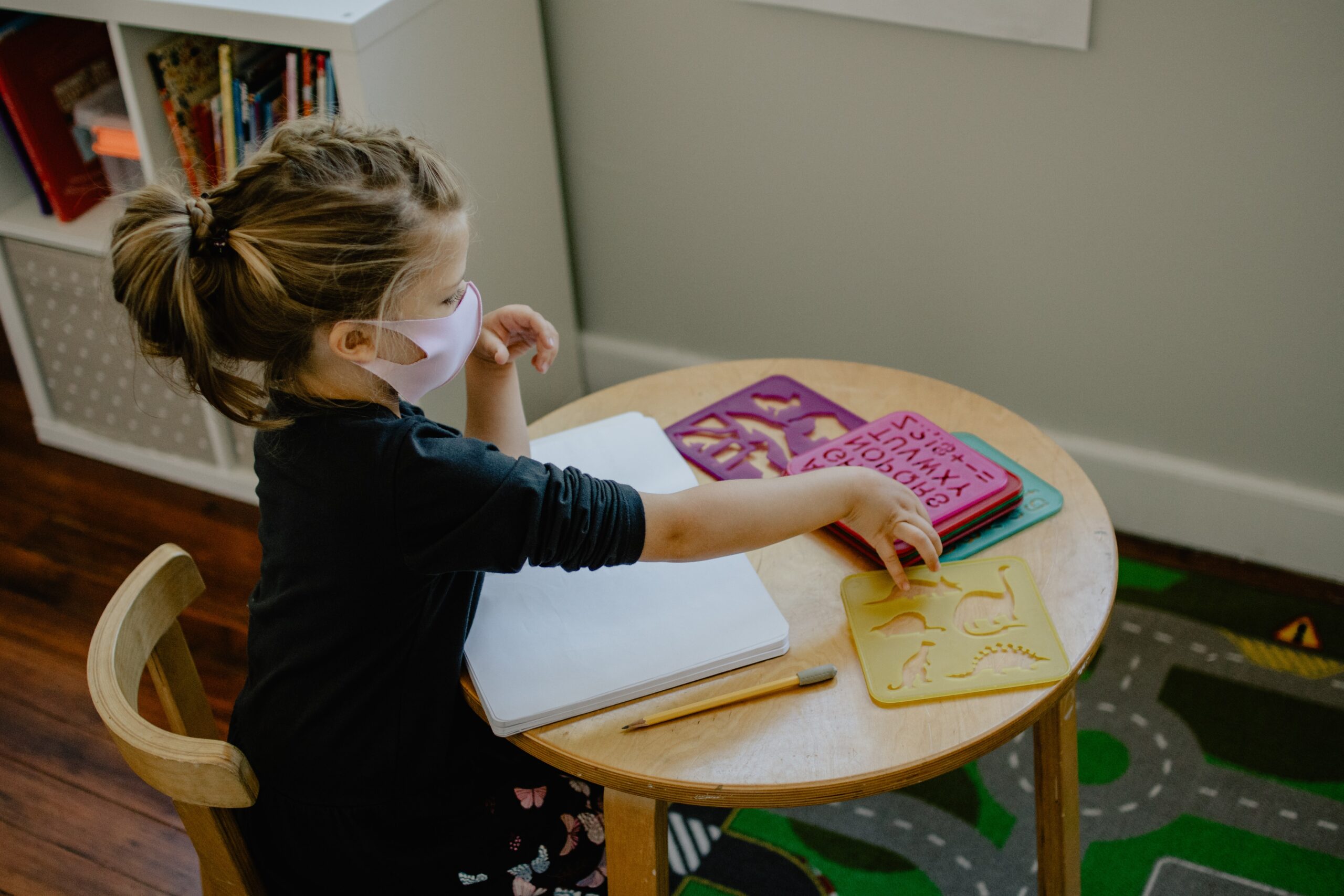 A Montessori at home workspace doesn't require much and can come in many forms. It can be as simple as a designated area with a few baskets of materials. A coffee table or windowsill can act as a shelf for materials, making a versatile workspace in even the smallest of homes. A spot on the floor, marked with a mat or rug, can become a workspace. A Montessori at home workspace doesn't have to be a large area. The most important part is that the child has a defined area to work.
Location of a Montessori at Home Workspace
A Montessori at home workspace could be tucked away in a more private area of your home or in the middle of the action at the kitchen table. The location of the workspace is dependent on your own child's preferences. Do they need a more quiet independent spot, or do they thrive around activity?
Materials in a Montessori at Home Workspace
To prepare the environment for your child, consider materials that meet the following guidelines:
Are made of wood, metal, fabric, or glass. Montessori favors natural materials to plastic ones.
Are passive. These are materials that require the child's active manipulation, like blocks or balls. These are different from active toys, like most battery-operated toys, that entertain the child and turn them into the observer.
Are realistic. Emphasize real-life materials over fantasy. For example, in a Montessori environment, books about bugs are more appropriate than books about superheroes.
Every item in the workspace should have a specific purpose with a specific skill to build on. It's best to regularly rotate materials. Materials should be swapped to match your child's interests at the time. This is also beneficial when working in a small space.
Accessibility
Ensure your child can access not only the materials but also the furniture in the workspace. Everything should be accessible to the child and equipped to fit your child's size. If you choose to use a table and chair, they should be small enough for your child to come and go without your help.
Readiness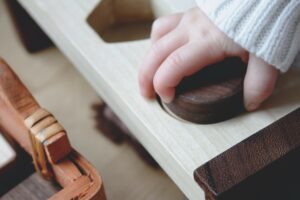 Through careful observation of your child, you can select materials that will challenge them appropriately. Of course, you don't want to present them with something overly difficult for their developmental stage. You'll know it's successful if your child wants to stick with it and master it. Your role as the parent is to take a step back and be the observer. Through observation, you'll be able to determine whether your child is developmentally ready for an activity. If not, you can save it for a later time when they can be successful.
Safety
Autonomy doesn't mean you should compromise safety. Make sure everything in a child's workspace is safe. This is one of many examples where you need to know your individual child and what they are ready for. After modeling safe use, if you have to continuously say, "that's not safe," you'll know your child isn't quite ready for a given material. Keeping an item that they cannot use properly will only discourage their confidence and independence. Perform the "toilet roll test." If an item can fit inside a toilet paper tube, children under 3 should not be alone with it.
Limited Options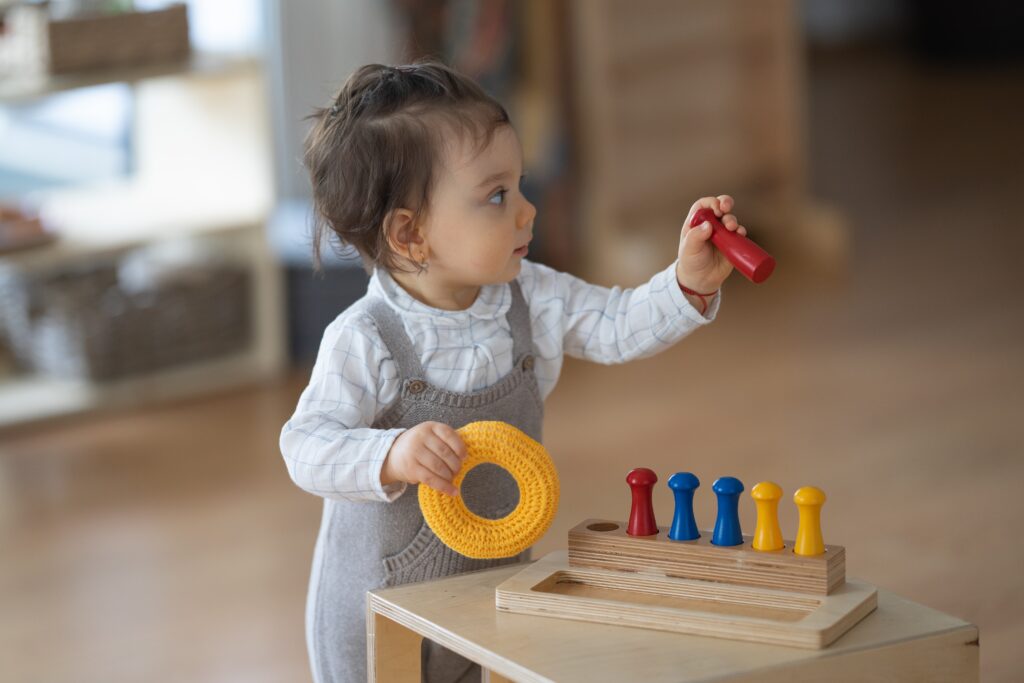 While we want children to have choices, too many choices can be overwhelming and thus detrimental to learning. This is true for both tangible and intangible things. Focus on one goal at a time. Montessori work has only one desired outcome. For example, a puzzle can be only be solved one way. On a related note, keep the clutter at bay. Organization prevents the child from distraction and keeps them focused on the task at hand.
Activity Types
Whatever you choose to prepare for an activity, the goal is to pique your child's curiosity and bring joy through discovery. Authentic Montessori materials, Montessori-friendly toys, and discovery baskets are all appropriate works to include in a child's workspace. You can also fill your child's workspace with practical life activities, on which Montessori education places a heavy emphasis.
Practical activities help the child develop skills like concentration, independence, and structure. Practical life activities can be worked on in any setting, and you can include opportunities to work on practical life skills in your child's workspace.
These activities may include:
A lock and key for your child to practice unlocking
Dressing frames to help your child learn skills like buttoning and fastening
A small screwdriver with screws and a wooden board to practice working with tools
A plant to water and care for
Montessori at Home Workspace for Babies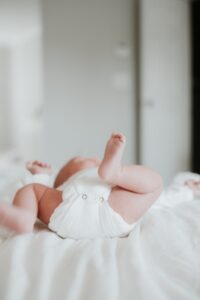 Keep in mind that work is play and play is discovery. For a baby, the workspace will look a little different because of their limited mobility. It may be as simple as a blanket on the floor and a mobile. Unlike traditional mobiles, Montessori mobiles are meant to be used during playtime, not nighttime. The mobile is hung at their level, close enough to touch, and is made of natural materials. You can introduce Montessori mobiles from birth.
When your child is an infant, everything is new. They can be engaged with seemingly simple things like light pouring in from the window and siblings playing. As the parent, you are also a "material" from which they learn. Make eye contact. Talk, sing, and read to your baby. It may take a few months to notice engagement in return, but your baby is absorbing your language and love from birth.