Montessori Printable: Color Wheel DIY Activity
Use our beautiful and simple Montessori printable to help your child understand primary and secondary colors!
Included downloads:
Full color color wheel PDF
Black and white color wheel PDF
Printable Color Wheel
The printable color wheels pair perfectly with our Mad Scientist Toolbox, which focuses on color mixing and motor skills.
First, if you have the Montessori Color Tablets available from the store, your child can match them to the colors on the wheel.
Next, you can have your child find small objects that match the colors.
Then, using the printable color wheel, talk to your child about primary and secondary colors. Explain that colors can mix to make different colors. Primary colors combine to make secondary colors. You can also work on the names for each color.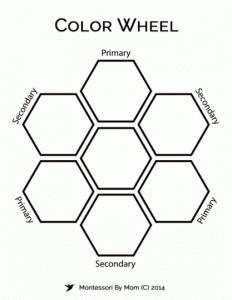 Black and White Color Wheel Template
Finally, print out the blank color wheel for your child to fill in. The first time, they may want to look at the colored version. Then, they may want to try to remember the correct colors without the help of a guide.
How Will I Get My Cards?
Complete the form below and you will receive an email with a download link for your free Montessori printable color wheel.
More About Montessori Printables
Discover a treasure trove of Montessori printables in this article. It's filled with engaging resources to promote independent learning and a love for exploration. From math and language activities to practical life exercises, there's something for children of all ages and interests. Unleash your child's curiosity and enhance their learning journey!