FREE Montessori Printable: Fall Pin Punching
Use our beautiful and simple Montessori printable to help develop your child's coordination and patience!
Included download:
Black and white fall-themed pin punching – dotted lines PDF
Black and white fall-themed pin punching – solid lines PDF
Printable Fall Pin Punching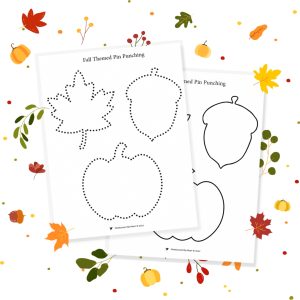 The Montessori fall pin punching pairs perfectly with our Building and Blocks Toolbox!
Your child can color the objects before or after pin-punching.
Helpful tip: Using corkboard or thick cardboard under the paper will make the job easier. For smaller hands, just a stylus with a sharp point. For hands with a little better pincer grip, use a thumbtack!
How Will I Get My Printable?
Complete the form below and you will receive an email with a download link for your free Montessori printable fall pin punching.
More About Montessori Printables
Discover a treasure trove of Montessori printables in this article. It's filled with engaging resources to promote independent learning and a love for exploration. From math and language activities to practical life exercises, there's something for children of all ages and interests. Unleash your child's curiosity and enhance their learning journey!