Montessori Printable: Fall Scavenger Hunt
Use our beautiful and simple Montessori printable to help your child explore nature!
Included download:
Full-color Montessori Fall Scavenger Hunt PDF
Printable Scavenger Hunt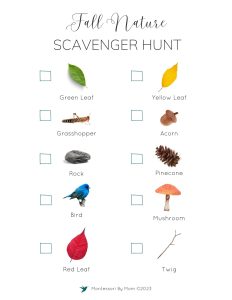 The Montessori fall scavenger hunt pairs perfectly with our Caves and Caverns Toolbox and Land, Water, Air Toolbox, which focus on the beauty of science and nature.
Your child can observe all of the items on the printable list. When the child finds the item in nature, they can cross it off the sheet. 
Helpful tip: Bring a little bag so your child can collect their own little nature treasures along the way!
How Will I Get My Printable?
Complete the form below and you will receive an email with a download link for your free Montessori printable fall scavenger hunt.
More About Montessori Printables
Discover a treasure trove of Montessori printables in this article. It's filled with engaging resources to promote independent learning and a love for exploration. From math and language activities to practical life exercises, there's something for children of all ages and interests. Unleash your child's curiosity and enhance their learning journey!