Montessori Toys
Toys are important. As Maria Montessori famously said, "Play is the work of the child." Hands-on play teaches children far more than flashcards, sit-down lessons, or screen time. But not all toys are created equal, and some toys nurture a growing mind more than others. Some toys invite a child's play and participation while other toys simply entertain the child. Montessori toys aim to engage children and foster their natural desire to learn.
In a previous article, we discussed how to find Montessori-friendly toys and materials. In this article, we're sharing examples of some of our favorite Montessori toys for all ages.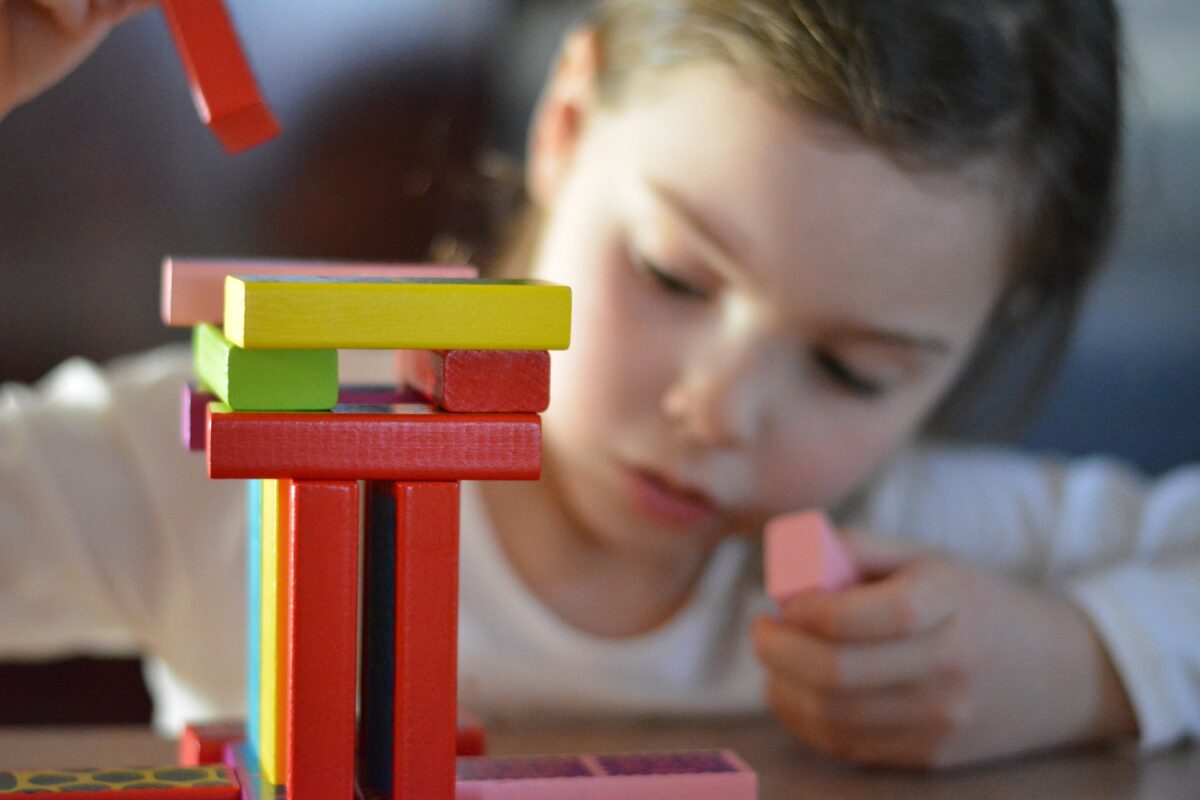 Open-Ended Toys vs. Close-Ended Toys
In a Montessori classroom, most activities have a determined start and endpoint. For example, a tray may have a few small animal figures with corresponding printed pictures of the animals for the child to match. After seeing a teacher present the activity, the child will take the tray from the shelf, bring it to the table, complete it, prepare it for the next child, then return it to the shelf.
The type of activity described above is a close-ended activity. There is a task for the child to complete and the child completes it. While there are certainly plenty of close-ended Montessori toys, there are also open-ended toys in Montessori homes. These might not be materials that you'd find in a Montessori classroom, but there is more flexibility in the home. Open-ended toys include blocks, balls, and dollhouses. There isn't a set way to play with these toys — a child can play with them however they see fit.
We believe there is room for both close-ended and open-ended toys in a Montessori home. Both have benefits. While close-ended toys foster focus and a sense of accomplishment, open-ended toys encourage imagination and creativity.
Close-Ended Montessori Toys
Puzzles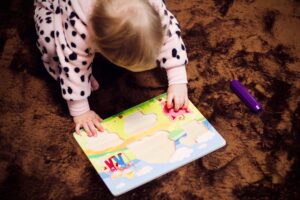 The benefits of puzzles include opportunities to develop fine motor skills, memory, patience, and problem-solving skills. When introducing puzzles, start small. Older babies can start using puzzles with a single shape and large knobs. As children grow, they can progress to puzzles with more complicated shapes, smaller knobs, and more pieces. Older children may like jigsaw puzzles. Shape sorters and Montessori classics like the egg in a cup can also fall into this category.
Stacking and Nesting Toys
Ring stackers, stacking cups, and stacking stones are all great toys. They teach hand-eye coordination and spatial intelligence. Stacking cups can also be nested. Graduated ring stackers offer an additional challenge since rings need to be placed in a specific order to fit correctly.
Cause-and-Effect Toys
Many toys fall into this category. For babies, the object permanence box is a great example. Babies place the ball into the hole and watch as it comes out the other side. Ball drops are another great example for older babies and toddlers. Hammering and pounding toys teach coordination and build strength.
Fine Motor Toys
Developing fine motor skills empowers children to be more confident in their day-to-day tasks, prepares them to read, and strengthens their hands. Pegging toys, threading and lacing toys, and posting toys all help children develop fine motor skills.
Open-Ended Montessori Toys
Building Toys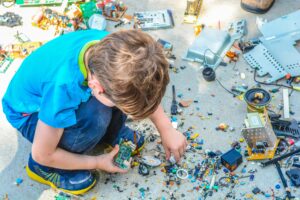 Building toys are hugely beneficial for children of all ages. Studies have shown that blocks improve spatial intelligence, language skills, and creative problem-solving skills. There are many toys on the market that children can build with. You can never go wrong with classic wooden blocks. Magnet tiles are another popular choice. LEGO, and LEGO DUPLO for younger children, offer limitless possibilities for play.
Balls
Balls are a simple, inexpensive toy perfect for children from birth through elementary school and beyond. They improve hand-eye coordination and build motor skills. Balls teach children to roll, throw, catch, and bounce. As children get older and play more cooperatively with balls, they learn teamwork and cooperation.
Replicas
Realistic replicas of real-life objects are a great addition to any Montessori home. Animal figurines, diecast vehicles, and other replicas are great tools for imaginative play. These toys are surprisingly versatile. While they serve as great open-ended toys, they can also be used as language objects or in other Montessori activities.
Playsets
Dollhouses, barns, car garages, and similar playsets can scaffold imaginative play. Often, children use toys like these to reenact and process events from their own lives. Fine motor skills also come into play as children place and maneuver figures in a playset. Both girls and boys benefit from this kind of play.
Art Supplies
Art gives children a creative and expressive outlet. "Every child is an artist," Pablo Picasso wrote. "The problem is how to remain an artist once we grow up." Children benefit from a variety of mediums and tools. Chunky crayons, chalk, and finger paint are great for the youngest artists. Older children may enjoy experimenting with watercolors, colored pencils, and oil paints. Keep in mind that art is about the process over product — the process of creating art, not the finished product, is most valuable to children.
Simple Is Better
This list is by no means comprehensive. As you follow your child and keep Montessori principles in mind, you can find Montessori toys that best fit your family, lifestyle, and budget.
You don't need to have every toy on this list to have a Montessori home. There are actually many benefits to having fewer toys. It's better to have a few high-quality toys that suit your child's needs than to buy an overwhelming amount of toys that your child isn't interested in. While toys are an important tool when implementing Montessori at home, they are not nearly as important as how you treat and interact with your child.
What is your child's favorite Montessori toy? Let us know in the comments!