Our First Box Is Finally Here!
We are happy to share our first box with you! We wanted to keep it a surprise, but we couldn't help it! The theme for our very first box is…  Shells and Starfish! 
What Comes With the Box?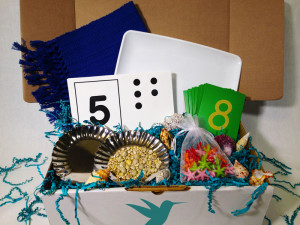 A subscription to Montessori By Mom is SO MUCH MORE than the great materials you receive.  It is an opportunity to bond with your child by fostering their natural love of learning. Montessori By Mom empowers parents as educators with unique Montessori based activities–we provide convenience, inspiration, and explanations so you can focus on having fun and teaching your kids, not wasting time doing research and creating materials. No teaching experience is necessary to use our curriculum!
Did We Mention Our Unconditional Guarantee?
We don't think you will ever be dissatisfied with a box, but if you are, we have an unconditional money back guarantee. Unhappy with a box? Let us know within 30 days and we will give you a full refund, no questions asked. You have nothing to lose! Why not try it today?
Example Activities
We have a lot of great activities planned for this theme. Here is a short list to give you some of some of the activities (including the area of study) that come with the Shells and Starfish box:
Language Arts: Ocean vocabulary
Practical Life: Basic motor skills, hand and spoon transfer
Practical Life: Grasping, hand eye coordination, fine motor skills
Math: One-to-one correspondence
Math: Fine motor skills, tracing the Sandpaper Numerals
Math: Visual discrimination and counting
Math: Matching quantity and numeral
We will also show you how these activities can be combined in various ways to create new activities that will keep your child interested in mastering essential skills.
Thank You!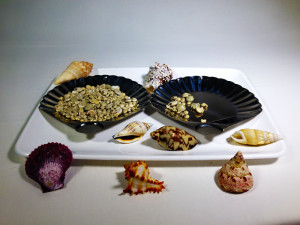 We want to take this chance to thank YOU. We have been overwhelmed with the positive feedback we have received and the excitement so many of you have shown. We could not turn our dream into a reality without your support. If you have not already purchased a subscription to Montessori By Mom, now is a great time to do so! Remember, you can still save $10 if you order before Thursday!
– Nathan & Teresa Hadsall