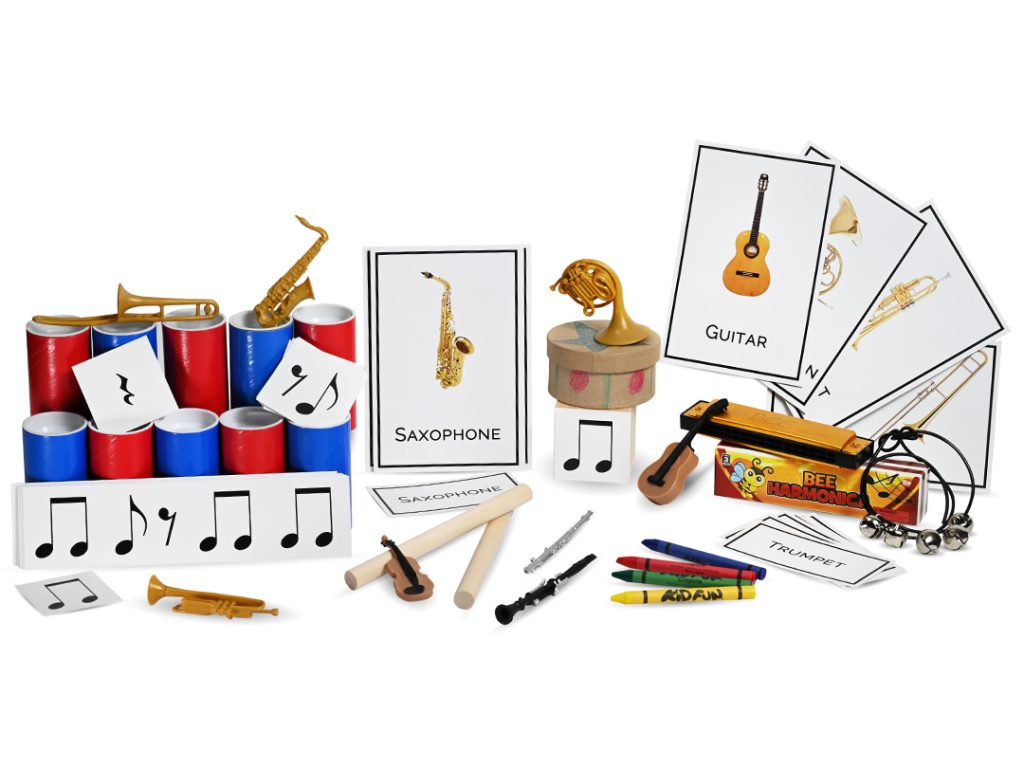 This Toolbox will help your child learn about instruments, refine the sense of hearing, and develop rhythm and coordination. Our activity guide provided with your toolbox and online video training (access given after purchase) provide dozens of activities for hours and hours of learning.
Montessori Sound Cylinders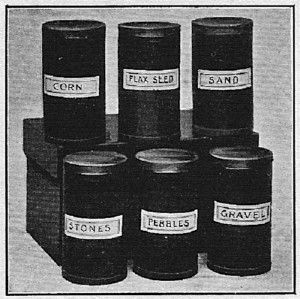 The sound cylinders are a classic Montessori material for refining the sense of hearing. This activity is also important because it can provide detection of hearing problems at an early age.
The black and white image is Dr. Montessori's own Sound Cylinders. Each cylinder is filled with a different medium, like corn, seeds, sand, gravel, or pebbles. When shaken, they produce sounds that vary in intensity from soft to loud.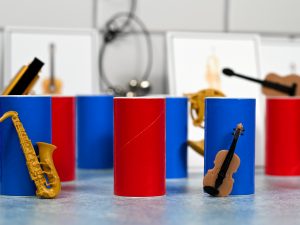 One set is blue, and the other is red. Each cylinder in the first set has a mate in the second one that produces an identical sound. The child must find the pairs by shaking each cylinder and listening and then grade them from the loudest to the softest.
Instruments and Matching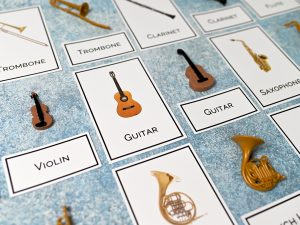 Your child will learn about 8 classical instruments with these hand painted replicas and our modified 3-part cards. In our video instruction we will explain why and how to use 3-part cards.
Young children begin by matching the replica to the picture of the real instrument. The reverse side of the card has a black and white image to match as well. Older children learn the name and match the replica, image, and label together.
Your child will also learn to identify the instrument sounds. You will have access to a resources page with music from each instrument.
Rhythms & Patterns

Our activity guide includes hours and hours of activities with the rhythm sticks and paper mache drum. Your child can use the rhythm sticks, drum, or jingle bells to develop their sense of rhythm and coordination. They will even use the scientific method to explore sounds. As a bonus, they get to make their own jingle bell shaker, stringing the bells on a leather band to develop motor skills. The drum is also fun to decorate, and works well with the paint from our Art Appreciation Toolbox.
The rhythm pattern cards are great for a range of ages. Younger children can match the shapes, and older children can learn about notes and rests. Our video instruction covers using the pattern cards to develop critical thinking, as well as teaching rhythm and musical notation.
Harmonica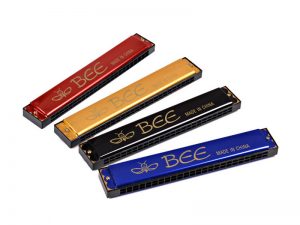 Finally, your child can learn about instruments with a real harmonica! Older Toolboxes had the Irish Penny Whistle, but it was discontinued by the manufacturer. Your Toolbox will contain a high-quality Harmonica instead. We think this is a good alternative as it is also easier for younger children.
Each Toolbox is carefully planned to contain a balanced blend of important qualities. Making Music is:
Quality: Durable, professional grade, or name brand
Activities: Many activities, uses, and levels of difficulty
Aesthetics: Generally experience beauty or natural materials
Montessori: Includes official materials, traditional activities, and faithful to general principles (AMS)
Imagination: Activities and theme encourage the imagination
Read more about our Toolbox Design Philosophy
Subscribe to Automatically Receive a New Toolbox Each Month!
Montessori by Mom subscribers receive FREE shipping and can focus on having fun and teaching your kids, not wasting time doing research and creating materials.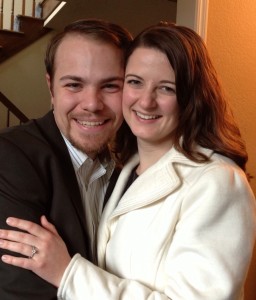 We are excited to share this Toolbox with
you, and hope your kids will love it!
– Nathan & Teresa Hadsall